Description
1997 All-Stars Game Basketball Shorts Green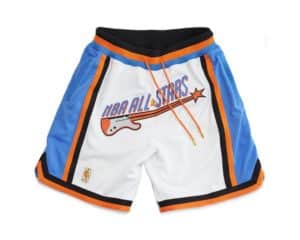 The 1997 NBA All-Star Game was the 47th edition of the All-Star Game and commemorated the 50th anniversary of NBA. The game was played on February 9, 1997, at Gund Arena (now known as Rocket Mortgage FieldHouse) in Cleveland, Ohio, United States. The winner of the MVP award was Glen Rice of the Charlotte Hornets who played 25 minutes and scored 26 points while breaking two records in the process, 20 points in the third quarter and 24 points in the second half. Rice's 20 points in the period broke Hal Greer's record (19), set in 1968. Rice's 24 points in a half surpassed the previous mark of 23, owned by Wilt Chamberlain and Tom Chambers. Michael Jordan's 14 points, 11 rebounds, and 11 assists were the first and, until the 2011 NBA All-Star Game, the only triple-double in NBA All-Star Game history (LeBron James (2011), Dwyane Wade (2012), and Kevin Durant (2017) have also achieved this). Five players (Charles Barkley, Alonzo Mourning, Patrick Ewing, Clyde Drexler, Shaquille O'Neal) who were voted or selected for the team opted out due to injury, opening the doors for the annually neglected and the new stars—Joe Dumars, Detlef Schrempf, Chris Webber, Chris Gatling and 20-year-old second-year man Kevin Garnett took their spots.
For this NBA All-Star Game, and the next four games that were played (1998, 2000–02), no special uniforms were issued, and the players simply wore the uniforms from their respective teams, an approach that is used by Major League Baseball for its All-Star Game.
The halftime show featured a ceremony honoring the 50 Greatest Players in NBA History. Of the 50 players named, three were not present: Pete Maravich (who died in 1988), Shaquille O'Neal (who was recovering from a knee injury), and Jerry West (who was having surgery for an ear infection).
Read more: https://en.wikipedia.org/wiki/1997_NBA_All-Star_Game
Website: https://storenbashorts.com/
E-Mail: [email protected]