Description
1997 NBA Finals Bulls x Jazz Basketball Shorts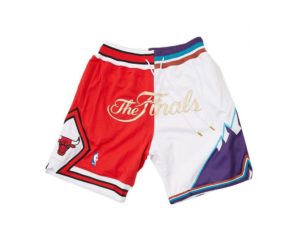 The 1997 NBA Finals was the concluding series of the 1997 NBA playoffs that determined the champion of the 1996–97 NBA season. The Western Conference champion Utah Jazz took on the Eastern Conference champion Chicago Bulls for the title, with the Bulls holding home court advantage. The series were played under a best-of-seven format, with the first 2 games in Chicago, the next 3 games in Salt Lake City, and the last 2 games in Chicago.
The Bulls won the series 4 games to 2. For the fifth time in as many Finals appearances, Michael Jordan was named NBA Finals MVP.
The Bulls and Jazz won a combined 133 regular season games, second most in Finals history. Until 2016, the 1997 NBA Finals was the last to feature teams that won a total of at least 130 regular season games.
Chicago Bulls
For the Chicago Bulls, the campaign was almost identical to their record-breaking 1995–96 season. They began the season 12–0, and by the All-Star break, were 42–6, putting them on pace to win 70 games for a second year in a row. But some late-season injuries and poor play denied them another 70-win season, and the Bulls settled for a 69–13 record, best in the league.
In the playoffs, the Bulls swept the Washington Bullets in the first round, dispatched the Atlanta Hawks in five games in the second round, then defeated the Miami Heat in five games in the Eastern Conference Finals.
Utah Jazz
The Jazz emerged as a force in the Western Conference during the 1990s, powered by its All-Star duo of point guard John Stockton and power forward Karl Malone. They advanced to the Western Conference Finals twice between 1992 and 1996, but lost on each occasion.
However, a different story was written for the 1996–97 season. Powered by league MVP Karl Malone, along with the talented John Stockton, the Jazz finally asserted themselves atop the Western Conference, finishing with a franchise-record 64 wins.
In the playoffs, Utah swept the Los Angeles Clippers in the opening round and eliminated the Los Angeles Lakers in five games in the second round. Then, with John Stockton's buzzer-beating, three-point shot in Game 6 of the Western Conference Finals, eliminated the Houston Rockets to advance to their first NBA Finals in franchise history.
Read more: https://en.wikipedia.org/wiki/1997_NBA_Finals
Website: Https://Storenbashorts.Com/
Mail: [email protected]