Description
Basketball Shorts All Teams Logo Black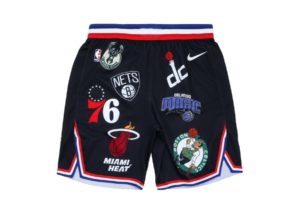 Supreme NBA Teams Logo Shorts Black are a must-have for any basketball fan. These shorts are made from high-quality materials that are designed to last. The black color of the shorts is perfect for any outfit, and the NBA team logos add a touch of style to the shorts.
The shorts are made from a blend of cotton and polyester, which makes them comfortable to wear and easy to care for. The elastic waistband ensures a secure fit, and the drawstring allows you to adjust the waistband to your liking. The shorts also feature two side pockets, which are perfect for storing your phone, keys, or wallet.
The NBA team logos on the shorts are a great way to show your support for your favorite team. The logos are printed in high-quality ink, which ensures that they will not fade or peel over time. The logos are also placed in a strategic location on the shorts, which makes them visible and easy to see.
Overall, Supreme NBA Teams Logo Shorts Black are a great addition to any basketball fan's wardrobe. They are comfortable, stylish, and durable, which makes them perfect for wearing on and off the court. So, if you're looking for a new pair of shorts to wear this season, be sure to check out Supreme NBA Teams Logo Shorts Black.
Website: https://storenbashorts.com/
Email: [email protected]