Description
Houston Rockets Basketball Shorts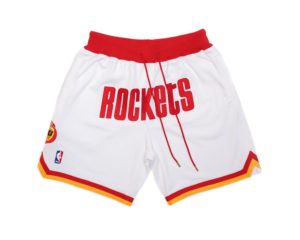 The Houston Rockets are an American professional basketball team based in Houston. They compete in the National Basketball Association (NBA) as a member team of the league's Western Conference Southwest Division. The team plays its home games at the Toyota Center, located in Downtown Houston. The Rockets have won two NBA championships and four Western Conference titles. The team was established in 1967 as the San Diego Rockets, an expansion team originally based in San Diego. In 1971, the Rockets moved to Houston.
The Rockets won only 15 games in their debut season as a franchise in 1967. In the 1968 NBA draft, the Rockets were awarded the first overall pick and selected power forward Elvin Hayes, who would lead the team to its first playoff appearance in his rookie season. The Rockets did not finish a season with a winning record for almost a decade until the 1976–77 season, when they traded for All-Star center Moses Malone. Malone went on to win the NBA Most Valuable Player (MVP) award twice while playing with the Rockets and led Houston to the Eastern Conference Finals in his first year with the team.
During the 1980–81 season, the Rockets finished the regular season with a 40–42 record. Despite their losing record, they qualified for the playoffs. Led by Malone, the Rockets stunned the entire league by making their first NBA Finals appearance in 1981, becoming only the second team in NBA history to make the NBA Finals with a losing record. They would lose in six games to the 62–20 Boston Celtics, led by Larry Bird, Robert Parish, and future Rockets' head coach Kevin McHale.
As of 2019, the 1980–81 Rockets are the last team since the 1954–55 Minneapolis Lakers to make it all the way to the NBA Finals with a losing record.
Read more: https://en.wikipedia.org/wiki/Houston_Rockets
Website: https://storenbashorts.com/
Email: [email protected]