Description
Seattle Supersonic Shorts Hardwood Classics Hyper Hoops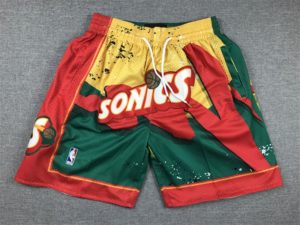 The Seattle Supersonics Shorts in Hardwood Classics Hyper Hoops design pay tribute to the team's historic legacy. These shorts allow you to proudly represent the Seattle Supersonics and the memories they created.
Design:
These shorts feature the classic Seattle Supersonics logo and team colors, capturing the essence of the team's iconic history.
Crafted with high-quality materials, the shorts offer comfort and durability for both on-court performance and showcasing your Supersonics pride.
Authenticity:
Whether you're hitting the court or commemorating the Supersonics' legacy, these Hardwood Classics shorts are an excellent choice.
Join the Seattle Supersonics' community and proudly display your team spirit with the Hyper Hoops Hardwood Classics Shorts. They're a must-have for fans who cherish the team's rich basketball history.
Read more: https://en.wikipedia.org/wiki/Seattle_SuperSonics
Website: Https://Storenbashorts.Com/
Email: [email protected]