Description
Toronto Raptors Shorts Hardwood Classics Hyper Hoops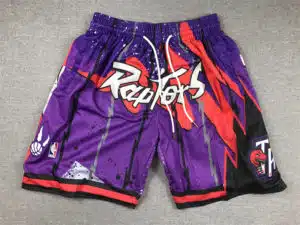 The Toronto Raptors Shorts – Hardwood Classics Hyper Hoops are a must-have for devoted Raptors fans looking to pay tribute to the team's history and remarkable journey.
Design:
These classic shorts feature the iconic Raptors colors and logo, allowing you to proudly represent the franchise's enduring legacy.
Crafted from premium materials, these shorts offer comfort and durability, making them suitable for both playing ball and casual wear.
Legacy:
The Raptors have left an indelible mark on the NBA, and these shorts let you display your unwavering support for a team that has achieved greatness.
Whether you're hitting the court or want to showcase your Raptors allegiance, these Hardwood Classics Hyper Hoops Shorts are the ideal choice. Join the Raptors faithful and celebrate the team's legacy in style with these classic shorts. Order yours now and be part of Raptors history!