Description
Vancouver Grizzlies Shorts Hardwood Classics 1998 Hyper Hoops – Turquoise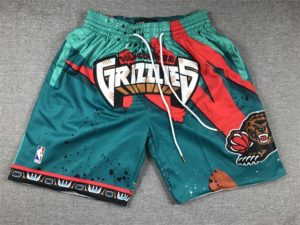 The Vancouver Grizzlies Shorts in Hardwood Classics 1998 Hyper Hoops Turquoise are a tribute to the iconic team's legacy. These shorts allow you to celebrate the unique history of the Vancouver Grizzlies and their distinctive turquoise color.
Design:
These shorts feature the classic Vancouver Grizzlies logo and colors, capturing the essence of the team's era.
Crafted with high-quality materials, the shorts offer comfort and durability for both basketball enthusiasts and fans of the team's history.
Authenticity:
Whether you're hitting the court or showcasing your love for the Grizzlies, these Hardwood Classics shorts are a perfect choice.
Join the Vancouver Grizzlies' community and proudly display your team spirit with the 1998 Hyper Hoops Turquoise Shorts. It's a must-have for fans who appreciate the team's unique place in basketball history.