Description
Men's Miami Heat 2023 White City Edition Basketball Shorts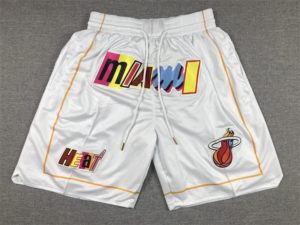 "The Miami Heat 2023 White City Edition Shorts are a stylish and comfortable addition to any basketball fan's wardrobe. These shorts are designed with the team's signature white and red color scheme, featuring a bold Miami Heat logo on the front left leg. The shorts are made from high-quality, breathable fabric that is both lightweight and durable, ensuring that they can withstand even the most intense games.
The shorts feature an elastic waistband with an adjustable drawstring, allowing for a comfortable and secure fit. The shorts also have two side pockets, providing ample space to store small items such as keys or a phone. The Miami Heat 2023 White City Edition Shorts are perfect for both casual wear and basketball games, making them a versatile addition to any fan's collection.
These shorts are part of the Miami Heat's City Edition collection, which pays homage to the city's vibrant culture and history. The white color of the shorts represents the pristine beaches and clear waters of Miami, while the red accents symbolize the city's passion and energy. The Miami Heat logo on the front of the shorts is a nod to the team's rich history and success, making these shorts a must-have for any true Heat fan.
Overall, the Miami Heat 2023 White City Edition Shorts are a stylish and comfortable way to show your support for the team. With their high-quality construction and attention to detail, these shorts are sure to become a favorite among fans of all ages."