Description
Toronto Raptors Shorts Year of the Rabbit Edition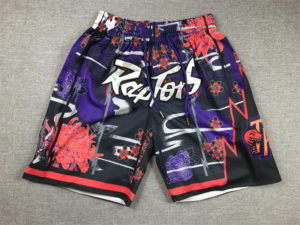 Introducing the Toronto Raptors Shorts Year of the Rabbit Edition, a must-have for all basketball enthusiasts and die-hard Raptors fans. These shorts are not just your ordinary basketball apparel; they embody the spirit of the team and celebrate the Year of the Rabbit in a unique and stylish way.
Designed with meticulous attention to detail, these shorts feature the iconic Raptors logo prominently displayed on the front, showcasing your unwavering support for the team. The Year of the Rabbit Edition adds an extra touch of exclusivity, making these shorts a collector's item for true Raptors aficionados.
Crafted from high-quality materials, these shorts offer exceptional comfort and durability, ensuring they can withstand the most intense on-court action or casual wear. The breathable fabric keeps you cool and dry, allowing you to focus on your game or enjoy a comfortable day out.
The Toronto Raptors Shorts Year of the Rabbit Edition not only provide style and comfort but also offer practicality. Equipped with deep pockets, you can conveniently carry your essentials, such as keys or a phone, without compromising your mobility. The elastic waistband with an adjustable drawstring ensures a secure and personalized fit for all body types.
Whether you're shooting hoops at the local court, cheering on the Raptors from the stands, or simply showcasing your love for the team in your everyday life, these shorts are the perfect choice. They effortlessly blend fashion and functionality, allowing you to express your Raptors pride while enjoying optimal comfort.
As a fan, you understand the value of representing your team with pride. The Toronto Raptors Shorts Year of the Rabbit Edition not only offer a unique and stylish design but also provide a tangible connection to the team's history and success. By owning these limited edition shorts, you become part of the Raptors legacy and join a community of passionate fans.
Don't miss out on this opportunity to own a piece of Raptors history. The Toronto Raptors Shorts Year of the Rabbit Edition are a testament to your unwavering support and dedication to the team. Elevate your basketball wardrobe and show off your Raptors pride with these exceptional shorts.