Description
Philadelphia 76ers Shorts Year of the Rabbit Edition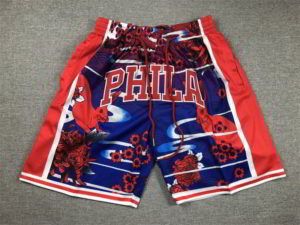 Introducing the Philadelphia 76ers Shorts Year of the Rabbit Edition, a must-have for any basketball enthusiast and die-hard fan of the Philadelphia 76ers. These shorts are not just your ordinary basketball apparel; they are a symbol of team pride, style, and the perfect way to show your support for the Sixers.
Crafted with meticulous attention to detail, these shorts feature a sleek and modern design that seamlessly blends the team's iconic colors with a touch of the Chinese zodiac's Year of the Rabbit. The vibrant red accents and the team's logo beautifully complement the classic blue base, creating a visually stunning piece of sportswear.
But these shorts are not just about looks. They are engineered for performance and comfort, ensuring that you can dominate the court while feeling at ease. Made from high-quality, breathable fabric, these shorts offer excellent moisture-wicking properties, keeping you cool and dry even during intense games or workouts. The elastic waistband provides a secure and adjustable fit, allowing you to move freely without any distractions.
The Philadelphia 76ers Shorts Year of the Rabbit Edition not only offer style and functionality but also carry a deeper meaning. They represent the team's unity, resilience, and determination to achieve greatness. By wearing these shorts, you become a part of the Sixers' journey, embodying their spirit and passion for the game.
Whether you're shooting hoops with friends, attending a game, or simply showcasing your love for the Philadelphia 76ers, these shorts are the ultimate statement piece. They make for a fantastic gift for any basketball enthusiast or a cherished addition to your own sports apparel collection.
Join the Sixers' faithful and embrace the Year of the Rabbit with these exclusive shorts. Stand out from the crowd, show your support, and let your love for the game shine through. Don't miss out on this limited edition release – get your Philadelphia 76ers Shorts Year of the Rabbit Edition today and be a part of the Sixers' legacy!