Description
Orlando Magic Shorts Year of the Rabbit Edition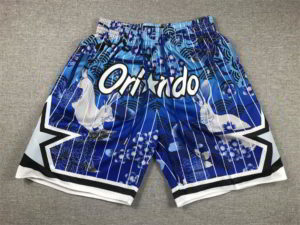 The "Orlando Magic Shorts Year of the Rabbit Edition" is a unique and stylish piece of sportswear that combines the love for basketball with the Chinese zodiac. These shorts are specifically designed to celebrate the Year of the Rabbit, making them a must-have for any Orlando Magic fan or basketball enthusiast.
Crafted with utmost precision and attention to detail, these shorts feature a vibrant color scheme that perfectly represents the team's iconic blue and black colors. The fabric used is of high-quality, ensuring durability and comfort during intense basketball games or casual wear. The shorts are designed to provide a perfect fit, allowing for unrestricted movement on the court.
The Year of the Rabbit Edition adds a touch of cultural significance to the shorts. The rabbit symbolizes good fortune, peace, and longevity in Chinese culture, making these shorts a symbol of positivity and luck. The rabbit motif is intricately embroidered on the shorts, adding a unique and eye-catching element to the design.
These shorts are not only fashionable but also functional. They feature an elastic waistband with an adjustable drawstring, allowing for a personalized and secure fit. The breathable fabric ensures proper ventilation, keeping the wearer cool and comfortable even during intense physical activity.
Whether you are a die-hard Orlando Magic fan or simply appreciate the fusion of sports and culture, the "Orlando Magic Shorts Year of the Rabbit Edition" is a must-have addition to your wardrobe. With its impeccable design, comfort, and cultural significance, these shorts are a true collector's item that will make you stand out both on and off the basketball court.
Read More: Https://En.Wikipedia.Org/Wiki/Orlando_Magic