Description
Los Angeles Lakers Shorts Year of the Rabbit Edition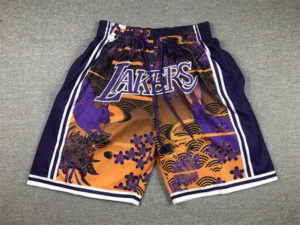 The "Los Angeles Lakers Shorts Year of the Rabbit Edition" is a unique and exclusive piece of apparel that any basketball fan or Lakers supporter would be proud to own. These shorts are a special edition release, designed to commemorate the Chinese zodiac Year of the Rabbit, making them a truly one-of-a-kind item.
Crafted with utmost attention to detail, these shorts feature the iconic purple and gold color scheme that is synonymous with the Los Angeles Lakers. The vibrant purple fabric forms the base of the shorts, while the gold accents add a touch of elegance and sophistication. The Lakers' logo is prominently displayed on the front, showcasing the team's rich history and legacy.
Made from high-quality materials, these shorts offer both comfort and durability. The fabric is soft and breathable, ensuring a comfortable fit even during intense physical activities. The elastic waistband provides a secure and adjustable fit, allowing for easy movement on and off the court.
The Year of the Rabbit Edition adds a unique twist to these shorts, making them a collector's item for Lakers fans. The rabbit motif is intricately embroidered on the sides, adding a touch of cultural significance and symbolism. This limited edition design sets these shorts apart from the standard Lakers merchandise, making them a must-have for any dedicated fan.
Whether you're a basketball enthusiast, a Lakers supporter, or simply someone who appreciates unique and stylish apparel, the "Los Angeles Lakers Shorts Year of the Rabbit Edition" is a fantastic addition to your wardrobe. Show off your team pride and celebrate the Chinese zodiac with these exclusive shorts that blend sport, culture, and fashion seamlessly.