Description
Golden State Warriors Shorts Year of the Rabbit Edition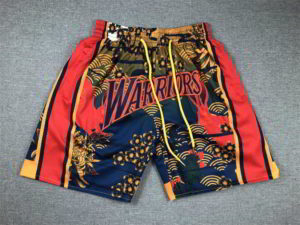 The "Golden State Warriors Shorts Year of the Rabbit Edition" is a unique and exclusive piece of apparel that any basketball fan or Golden State Warriors supporter would be proud to own. These shorts are specifically designed to commemorate the Year of the Rabbit, adding a touch of cultural significance to the already iconic Golden State Warriors brand.
Crafted with utmost precision and attention to detail, these shorts boast a sleek and modern design that perfectly captures the essence of the Golden State Warriors' spirit. Made from high-quality materials, they offer exceptional comfort and durability, ensuring they can withstand the rigors of intense basketball games or casual wear.
The shorts feature the Golden State Warriors' official logo prominently displayed on the front, showcasing your allegiance to the team. The logo is intricately embroidered, adding a touch of elegance and sophistication to the overall design. Additionally, the Year of the Rabbit emblem is tastefully incorporated into the shorts, symbolizing good fortune, luck, and prosperity.
With an elastic waistband and an adjustable drawstring, these shorts provide a customizable fit for individuals of various sizes. They also feature deep pockets, allowing you to conveniently carry small essentials like keys or a phone while on the go.
Whether you're hitting the court for a pickup game, lounging at home, or attending a Golden State Warriors game, these shorts are the perfect choice. They not only showcase your love for the team but also celebrate the cultural significance of the Year of the Rabbit. Donning these shorts will undoubtedly make you stand out as a true fan and fashion-forward individual.