Description
Chicago Bulls Shorts Year of the Rabbit Edition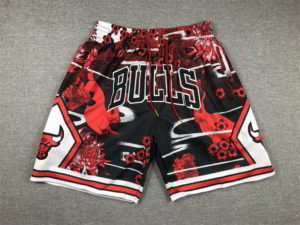 The "Chicago Bulls Shorts Year of the Rabbit Edition" is a unique and stylish piece of apparel that pays homage to the iconic Chicago Bulls basketball team. These shorts are specifically designed to commemorate the Year of the Rabbit, adding an extra touch of exclusivity and significance to the product.
Crafted with meticulous attention to detail, these shorts boast a high-quality construction that ensures durability and comfort. Made from premium materials, they offer a soft and breathable feel, making them perfect for both casual wear and athletic activities. The fabric is also designed to wick away moisture, keeping the wearer cool and dry even during intense workouts.
The design of the Chicago Bulls Shorts Year of the Rabbit Edition is truly eye-catching. The vibrant red color, synonymous with the Bulls, dominates the shorts, while the iconic team logo is prominently displayed on the front. The Year of the Rabbit motif is intricately incorporated into the design, with subtle rabbit illustrations adorning the sides and back of the shorts. This unique combination of elements creates a visually appealing and distinctive look that sets these shorts apart from regular team merchandise.
In terms of functionality, these shorts feature an elastic waistband with an adjustable drawstring, allowing for a personalized and secure fit. They also have convenient side pockets, providing storage space for small essentials like keys or a phone.
Whether you're a die-hard Chicago Bulls fan or simply appreciate high-quality and stylish sportswear, the Chicago Bulls Shorts Year of the Rabbit Edition is a must-have addition to your wardrobe. With its exceptional design, comfort, and attention to detail, these shorts are sure to make a statement both on and off the court.