Description
Boston Celtics Shorts Year of the Rabbit Edition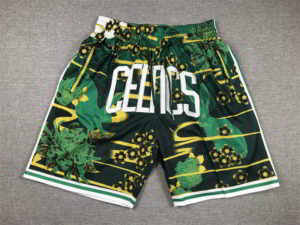 The "Boston Celtics Shorts Year of the Rabbit Edition" is a unique and stylish piece of apparel that pays homage to the iconic Boston Celtics basketball team. These shorts are specifically designed to celebrate the Year of the Rabbit, adding an extra touch of exclusivity and cultural significance to the product.
Crafted with utmost precision and attention to detail, these shorts boast a high-quality construction that ensures durability and comfort. Made from premium materials, they offer a soft and breathable feel against the skin, making them perfect for both casual wear and intense physical activities.
The design of the Boston Celtics Shorts Year of the Rabbit Edition is truly eye-catching. The vibrant green color, synonymous with the Celtics, dominates the shorts, while intricate rabbit motifs are intricately woven into the fabric. These rabbit symbols symbolize luck, prosperity, and agility, adding a unique and meaningful touch to the overall aesthetic.
Featuring an elastic waistband with an adjustable drawstring, these shorts offer a customizable fit for individuals of various body types. Additionally, they are equipped with multiple pockets, providing ample storage space for small essentials like keys, cards, or a smartphone.
Whether you are a die-hard Boston Celtics fan, a basketball enthusiast, or simply someone who appreciates stylish and comfortable clothing, the Boston Celtics Shorts Year of the Rabbit Edition is a must-have addition to your wardrobe. With its exceptional design, superior quality, and cultural significance, these shorts are sure to make a statement and become a cherished item for any Celtics supporter.
Read more: https://en.wikipedia.org/wiki/Boston_Celtics
Website: https://storenbashorts.com/